Our intension is to cater high quality plastic chemical storage tanks, engineered and manufactured by employing exemplary quality polyethylene material to solve your most demanding storage problems. These tanks are designed, manufactured and tested in-house at our state of the art infrastructure based in Ahmedabad, Gujarat.
The impeccable quality of these plastic chemical storage tanks is the result of our attention to detail, from the configuration phase to the fabrication phase and attention to the applicable regulatory norms. Our shrewd team concentrates on measurement of safety, quality and reliability along with wall thickness that strongly conforms to the standards of liquid containment.
We are broadly acclaimed as an unsurpassed quality chemical storage tanks manufacturer for the reason of consistently providing an entire range of tanks that fulfill customer requirements and the regulatory requirements, available in miscellaneous shapes and capacities ranging from 100 liter to 35000 liter, to end up the search of suitable tanks here only. Moreover, our specialty lies in providing bespoke manufacturing for plastic chemical storage tanks where space is an issue on the site.
Exclusive Features :
Capable to withstand wide temperature range
Excellent resistance to corrosion
Excellent impact resistance
Virtually no maintenance required
Robust construction ensures long life expectancy
Chemical Compatibility:
Ammonia, Acetic acid, Hydrofluosilicic acid, Hydrochloric acid, Sulphuric acid, Sodium hypochlorite, Caustic liquor, Ferric sulphate, Ferric chloride, Polyaluminium chloride, Orthophosphoric acid, Phosphoric acid, Lime slurry, Leachate and all other analogous chemicals.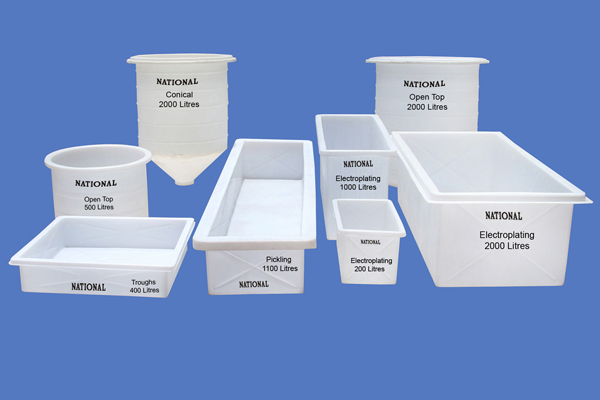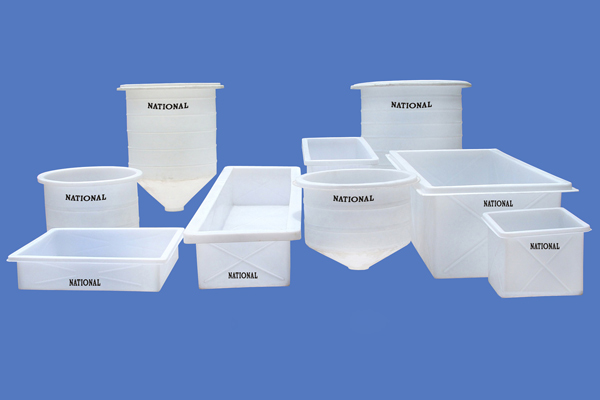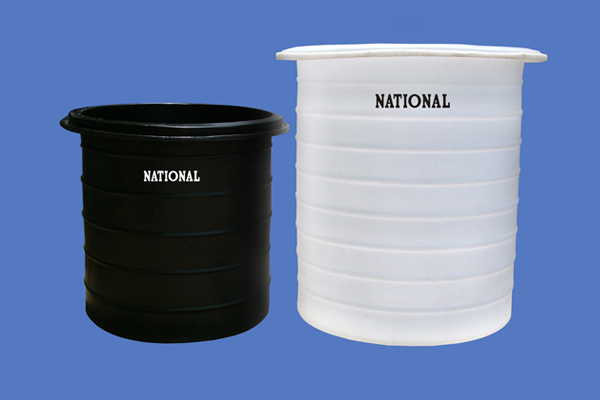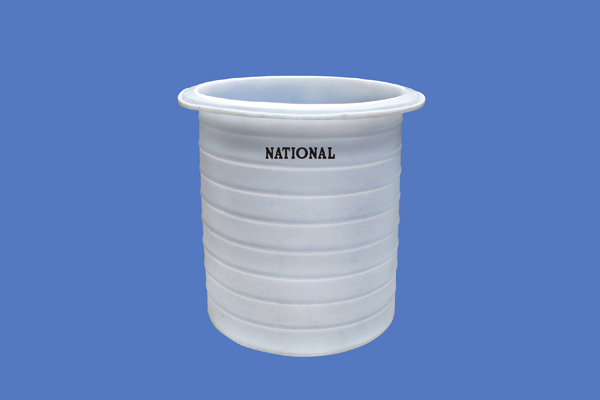 Code-No
Capacity(In Litres)
Dimensions (MM)
DIA
Height
NCV
20-01
200
585
800
NCV
50-01
500
960
715
NCV
75-01
750
640
1040
NCV
100-01
1000
1100
1150
NCV
150-01
1500
1320
1300
NCV
200-01
2000
1320
1600
NCV
300-01
3000
1500
1980
NCV
500-01
5000
1880
1730
NCV
750-01
7500
2000
2660
NCV
1000-01
10000
2630
2210
NCV
1500-01
15000
2500
3520
NCV
2500-01
25000
3050
3970
Conical Bottom Tanks Manufacturer
Code-No
Capacity(In Litres)
DIA
Height
Shell-H
Cone-H
Total Hight
NCVP
50-01
500
990
560
280
840
NCVP
100-01
1000
1100
1090
450
1540
NCVP
150-01
1500
1330
1230
400
1630
NCVP
200-01
2000
1425
1560
410
1970
NCVP
500-01
5000
1960
1700
400
2100
NCVP
1000-01
10000
2590
2180
630
2810
Electroplating Tank Exporter
Code-No
Capacity
(In Litres)
Dimensions (MM)
Length
Width
Height
NET
10-01
100
600
435
450
NET
20-01
200
950
470
470
NET
22-01
220
610
610
610
NET
48-01
480
890
760
760
NET
65-01
650
1210
760
770
NET
95-01
950
1220
1120
790
NET
100-01
1000
1800
610
900
NET
120-01
1200
1500
1030
760
NET
120-01 H
1200
1500
825
930
NET
145-01
1450
1800
1050
730
NET
172-01
1720
2550
750
900
NET
200-01
2000
2600
1125
800
Industrial Wagons / Textile Trollies India
Code-No
Capacity(In Litres)
Dimensions (MM)
Length
Width
Height
NIW
48-01
480
890
760
760
NIW
65-01
650
121
760
770
NIW
120-01
1200
120
1030
760
NIW
145-01
1450
182
1030
730
Pickling Tank Manufacturer & Exporter in India
Code-No
Capacity(In Litres)
Dimensions (MM)
Length
Width
Height
NET
42-01
420
1780
605
400
NET
57-01
570
2400
605
425
NET
75-01
750
2450
775
470
NET
70-01
700
3000
600
400
NET
95-01
950
3000
750
400
NET
85-01
850
3660
600
400
NET
110-01
1100
3660
760
450
NET
150-01
1500
3660
750
600
NET
55-01
550
4000
375
395
Code-No
Capacity

(In Litres)

Dimensions (MM)
Length
Width
Height
NT
40-01
400
1190
1190
290
NT
80-01
800
2450
1245
310
Code-No
Capacity(In Litres)
Overall Dimensions (CMS)
Length
Width
Height
DBS
15-01
150
65
64
41
DBS
20-01
200
82
42
64
DBS
25-01
250
82
57
60
DBS
30-01
300
94
62
52