"Samrat" Water Storage Tanks
CAPACITY
( IN LITRES )
DIMENSIONS (CMS)   
DIA
HEIGHT
MANHOLE
200
53
76
28
300
73
78
37
500
82
96
37
750
96
112
37
1000
107
126
37
1500
131
127
37
2000
140
150
37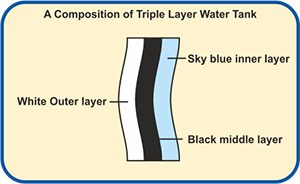 UNIQUE FEATURES :
100% UV Stabilize
Multilayer
Algae formation protection
Attractive looking & packing
Durable & economical
No maintenance
Leak proof
Rust proof
Molded to seamless perfection
SAMRAT with its revolutionary black overhead water tank changed the way India stored water. Now with equal panache, it is once again going to change the face of Indian houses with its brilliant new product : SAMRAT Triple Layer White Tank. Its bright white color adds aesthetical value to your building. The three layer wall not only controls the inside temperature, it actually makes the water storage more hygienic. Moreover, tank gets extra strength hence longer life.
So go for the triple benefits of SAMTRAT Triple Layer White Tank.